2 NHL/MLB/NBA Crossover Jerseys for sale.
Both size 56 and barely worn.
1) Habs/Expos crossover. Red with gray accents, size 56. Expos logo with Habs crest on the shoulder. Absolute beauty but dont have much use for it. This was made by a member here, and was really well put together.
Asking $140 US shipped. SOLD
2) Team Canada/Toronto Raptors Crossover. White with red accents, size 56. This was originally a Flames 3.0 that was decrested. The Flames logo left some marks, but if you don't mind them its a nice piece. I had both crests sewn on professionally but the Raptors one was tough to do, so some of the edges couldn't be stitched and the middle of the crest had to be stitched instead. In perfect shape though.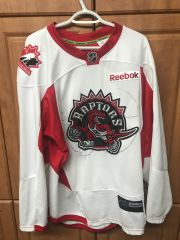 Asking $90 US + ship